AFTER ACTION REPORTS
2018 Jackson/Ella Sharp Park After Action Report
It was the 34th year, as well as the '1st' year of this event, and while we learned a few things that we can improve upon for next year, I think this new venue gives the event, as well as a hobby, a breath of fresh air and a great foundation to build on.
Arriving Friday things were certainly different, and a bit of a learning experience (hopefully no one went to Cascades Park!). Once we figured out the Federal camp and parking, we were good to go. Tip of the hat to Keith Graham Harrison and Thomas Berlucchi for their excellent work laying the camps out, I don't think I have ever seen a camp so well organized.
I was pleased to find on Saturday morning we had 6 decent sized Federal companies but saddened that our drill was delayed twice due to rain. We were finally able to take the field around 11:00a for some much-needed drill. The sun appeared just before our battle of Shiloh, and specifically we portrayed a portion of the engagement where the 15th Michigan was involved. We were fortunate enough to have had Ray Berarls put some time into drawing an excellent map of the battle, which we used for planning.
The battle went according to plan and Scott Cummings (after changing uniforms a few times like Superman) and crew served as our anchor, skirmishing with the Rebs. The main body of the Army took the field utilizing on the left by files into line (well-practiced...). Russ Paul (4th Michigan Co A and the 15th Michigan) were called up from camp to anchor our left flank but didn't bring any ammunition!! (this was part of the scenario). Russ fixed bayonets and took a beating from the Rebs until he retired to re-supply, then came back with a vengeance.
A couple 'thanks' to point out…first, I think we can all agree that while I didn't use Mark D. Heath to his fullest extent, I got a lot better at using him (as evidenced by having some of my voice left). Thanks to Mark for his skills, as well as the great drumming by TJ BerlucchiJ and crew.
Saturday afternoon the re-enacting weather gods continued to smile upon us as we were able to perform Parade. I was glad Nathan Tingley jumped in at the last minute to help with the Adjutant role and this gathering (great job Nate!) (once TJ remembered we were having it, we had music). 😊
Saturday evening, I made my normal stroll through camp and somehow agreed to a medical procedure performed by Marty Walker and the 3rd Michigan…and I wasn't drinking, I promise. Anyway, thanks for the 're-alignment' Marty. Farther down on my stroll I stumbled into a conversation 6th company was having regarding tick identification removal…it is a conversation I have been trying to forget ever since.
On Sunday Andrew McComas took over for 2nd Company. Scott Lawalin, having done a solid job on Saturday, continued his performance on Sunday. As you may have noticed there seemed to be some issues with Confederate attendance, and as much as I teased Scot Spiekerman about it, it was very gracious of him and his boys to be willing to galvanize to make the battle scenario work. Thanks Scot, and I still didn't get a pair of red pants…
The staff was phenomenal. As pointed out by Douglas McComas, it was quite a mix. Chad Johnson probably ran about 10 miles for me during drill and the battle. This is the second time I asked Chad to serve and he did a wonderful job. I have been working with Denny Whiting regularly for quite some time and he never disappoints, and new to the staff was Nick Miner, who did a nice job at Major through the weekend. Thanks to J.R. Schroeder who was our Medical Officer, as well as the 8th Michigan Medical.
I must comment, as I usually do, how much of a pleasure it is to work with Greg Van Wey and his crew, so easy to work with, so willing to do the right thing, always a welcome change.
Side note, I 'created' an event for 2019 Hartford City Civil War Days on the Cumberland Guard Facebook page, October 18, 19, 20, 2019.
2018 Hastings/Charlton Park After Action Report
Thanks to everyone who was able to attend. I arrived on site in the early evening due to some significant construction, weather, and traffic delays. Ultimately the weather forecast would scare some public as well as some re-enactors into likely not attending, but overall, we managed through the weather well.
Over the weekend I was summoned to a meeting with the 3rd Michigan Infantry Co. F regarding some unresolved issues from Gettysburg. I walked over to their camp (it was about 1.25 miles away) and was presented with the chair I discarded at Gettysburg, completely reconditioned (see pictures below). What a great gift, thanks 3rd Michigan Infantry Co. F!
We started off the weekend with drill on Saturday which went very well. At the end of the drill, we participated in a ceremony for Jim Newkirk and John Clark, which included all the re-enactors on parade at the Village Green. Thanks to everyone who attended. We later rolled into the battle on the High Meadows. Our march went quicker than it has in the past (perhaps due to cooler temperatures) and we had some downtime while out on the field. Compliments to our Wing Commander Denny Whting and 5th Company / Jeremy Buschlen for doing an outstanding job leading the way as skirmishers. Unfortunately, he suffered heavy casualties and it became the job of 4th Company and Robbie Giorlando to secure our left flank as we pressed the Rebels. We pushed them all the way to the tree line before they decided to punch back, and they pushed us back a bit before finally surrendering. It was, as always, a great job by Bill Adams and his men.
We marched back to camp to prepare for the evening parade. Thanks to Tom Emerick for walking the Sergeants through the parade. We conducted it on the Village Green and want to recognize the fifers that joined us for the march and parade, thank you. Special note to 1st Company (Marty Walker, who didn't run over anyone with his company this weekend!), and 2nd Company (Douglas McComas) for their men wearing white gloves for the Parade.
We had the tactical Saturday morning, and it was the typical tactical. We could not have done as well as we did without the great support of Kevin Yeager and his boys on horseback, thank you. About the tactical, I'll provide a snippet of the same speech I gave on Sunday here in my AAR, as it relates to the tactical. I am a fan of tacticals? Nope. Who is? The Rebs, apparently, and our brothers in the Cav. The battle in the High Meadows and the tactical is the primary reason (I believe) the Cav goes to Hastings. So to support the hobby means supporting key events. To support key events, sometimes we need to do things we might otherwise not want to do during the event. So next year, if you did sit the tactical out, please don't. Please realize (also from a prior speech), any event is successful on three pillars, spectators, re-enactors, and sutlers. If we don't' support an activity or formation, we give other re-enactors a reason to not go to the event, it then reduces our overall numbers. When our numbers reduce, so do spectators. Lowered re-enactors and spectators mean less revenue for sutlers. If any of them pull out, we possibly loose more re-enactors, and so it goes around the circle. Less re-enactors, less public, the event can't support itself. I know this is a voluntary hobby, but please support the formations, please engage the public, please visit Andy Fulks at Fall Creek Suttlery and ALL the other sutlers at the event. I'm certainly not saying this event is going anywhere, but let's keep it from going anywhere. I would also encourage company commanders to set the example in attending all the formations, including the tactical. You lead, your men will follow. (ok, off soap box).
I could not say enough about the drumming of TJ Berlucchi. We all know how difficult it is to march when you have a mediocre drummer, but TJ just knocked the cover off the ball this weekend. Great job. Also, thanks to Russ Paul who was the Chief of Staff and all around go-to guy, thanks Russ.
After the tactical we geared up for one more drill, and obviously the Drill Gods were smiling on us (even though Dave Bauman made the lady in the walker move 3 times….). Because the rain started just as drill was finished. Nice job by 3rd Company (combo Nick Miner / Scot Spiekerman) on managing the colors the weekend. As Sgt. Major, John Vohlken was a huge help in getting our lines set and marked.
The weather for the battle looked tenuous, but (again…) we threaded the needle on the rain and we were able to put on a good show. 1st Company / Marty Walker led the way by stirring up a hornet's nest of Rebs. We had to take a lot of casualties (the 1st Michigan just did not want to stop with those Henrys!) to open the door for the Confederate Army, including trying to expose our left flank for them to take. We finally gave up the fight and the Rebs were victorious on Sunday.
Thanks again, and we will see you at Jackson!!
Colonel Van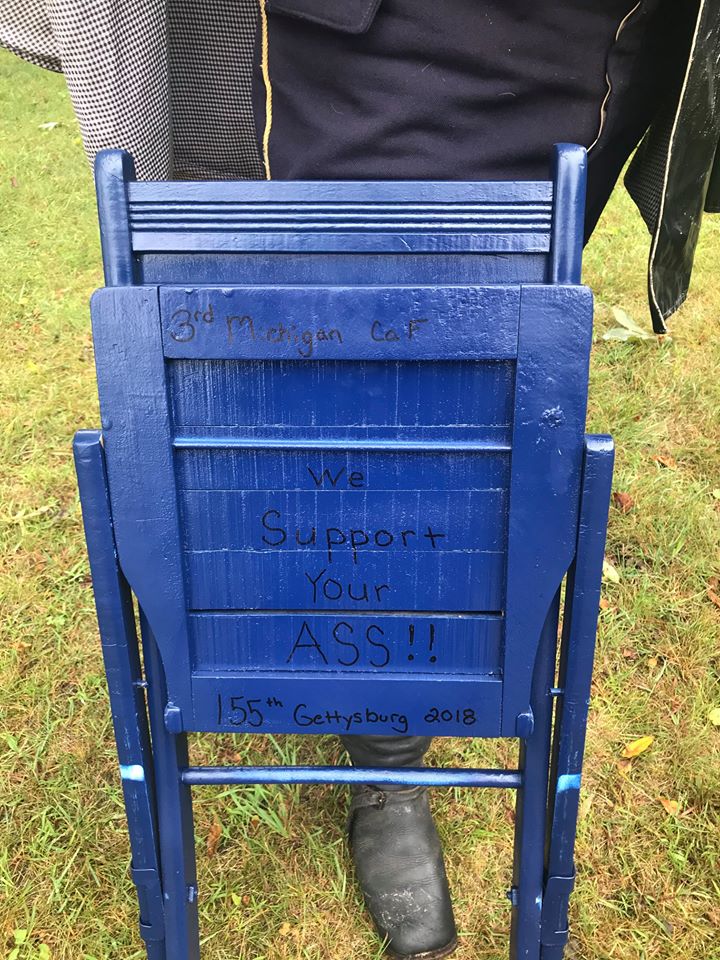 2018 (155th) Gettysburg After Action Report
Before too much time elapsed, I wanted to jot down a few notes about the event. As is probably and typically my fashion, I'll start with some general comments and 'thank yous', some things I learned and should have done differently, and some comments about the event itself.
Two of my three sons and I caravanned over Wednesday night to the event with Mark Benning and his son Conrad William Benning and we arrived Thursday late morning. I had some concern immediately as there was limited signage indicating camping logistics. Things were settled and discussion began as it related to the march to the 'remote' site. In the end it was decided, in no small part due to some weather forecasts, that we would do the march in the morning and march into Friday's battle.
Friday morning started off overcast and muggy. The march Friday morning was marked with constant starts and stops by a 'guide' who clearly had no idea where he was going. We eventually made it to the first stop and had to insist on water being brought to us. Our next stop was a farm house where the owners seemed thrilled to have several hundred re-enactors stop (as well as urinate) on their lawn. Once into battle, 1st company (AOW commanded by Ian Fulford) did a great job refusing the flank perhaps 10 or 20 times. 2nd company (commanded by Marty Walker) ripped off some killer volleys. With artillery in front of us, we became tired of being targets and quickly went down and captured the guns. The troops to our right (I believe they were USV) wanted to spend 15 minutes dressing their lines while under attack, so Ian again wheeled and refused the flank (but boy did the USV line look great…). The USV folks eventually retired off the field, and our exposed right flank and weakened numbers compelled us to retire. General Zeckman suffered a mortal wound during the battle. Given the action, battalion drill was cancelled for the day. Eventually spotty rain turned into a sunny day with a light breeze.
Friday afternoon's battle allowed us to be joined by two companies of troops from Bernie's Division. Great group of guys. We formed up and parked in the shade briefly, then marched into the battle. The battle was quite chaotic, as the Left Wing (under Howard Morgan) expertly wheeled into the flank of the Rebs who were attacking the Army of the Ohio. Somehow the General stole my Right Wing (under Denny Whiting) to support the right flank of the Army (not cool), and at one point I was taking random companies and plugging them into our lines. I am pretty sure our Battalion was doing all the fighting that day. It was another hot battle. Friday evening saw the temperature's cool down to the point where blankets were needed at night.
Saturday morning, we had an 'extra special' reveille at 5:40a provided by Mark D. Heath (thanks Mark!) 😊. Just now getting to our first battalion drill, we were joined by Ben Cwayna's 6th Michigan boys who would prove their mettle later in the day. The drill was done well and we also worked with our Reb counterparts on the hand to hand portion of the scenario. My voice became a bit…limited..during this drill and I had to utilize the Adjutant and Sgt. Major as my 'nice voice' and 'mean voice'. The battle for the morning was the Wheatfield. We marched up to the wall and had some back and forth with the Rebs and eventually retreated as Ben and his men performed their scenario. When we came back we went to the extreme right of the Army (because hey…they needed us again…) and pushed the Rebs to the wall.
Saturday evening the battle was 'Attack The Stone Wall'. We marched out in front of the stone wall and watched the first line of Federals fight and break (we knew why we were there…)). We fought hard. We had a small Federal Battalion dispatched to our right (it took them a few minutes to get there), and then the battalion on our left, broke. We were pushed back behind the wall and had to do a little dance (sorry…) to get un-inverted. After doing so we (again) went to the far right to save the Army and rolled up the Rebel left flank as the battle was ending. Saturday evening, we formed for Parade (did I mention I LOVE Parades??) and that ended the formal activities for the evening.
The battle on Sunday (for as hot and heavy as all the other engagements were) was very brief for us. We watched the Rebs throw themselves on the wall (probably some pretty good views from our lines) as we fired into the flank of the charging Rebel hoard.
It was a great showing for the GAR, you can see some pretty impressive video of us on various Facebook pages. Thanks to all the music staff, Sgt. Major William Behrman, and especially Major Greg Swank (we could not have done any of this without them). Our Wing Commanders were outstanding, and our company commanders were second to none. It was great to see Douglas McComas and Scot Spiekerman leading 2nd Company. The MDM fellas were just awesome to work with. Many companies 'shared' leadership during the event which you might think would make it challenging, but it didn't. Also, special thanks to Aaron Sells who was my 'rock' on the left side, great job Aaron. Andy / Barry / Randy were awesome as 6th company, and Greg did an outstanding job as well.
I always like to take a few minutes and talk about things I did wrong and can do differently, this event was not unique in that there were several.
1) When the person who was going to lay our camp out could not make it, I should have figured out some kind of 'Plan B'. Not having someone from headquarters there in advance of people setting up their camps was a mistake. That led to some frustration in regards to streets. In addition, I should have done a better job (along the lines of what we did at Shiloh) where we had the civilians close (along a line at the back of the military streets, but not IN the military camp). Not doing so created some frustration. That was my fault.
2) I should have ignored the order to pull us off the wall for the Wheatfield scenario. We were promised to be a part of that, we were lied to. I blame myself for not ignoring the order. Those of you that were frustrated by that I apologize. I was so angry by this I did not bother attending the Brigade Officer's meeting later in the day. The practice we put in was completely wasted. I am sorry.
3) A bit of the same 'trust' issue in regards to the march. It was longer than what was 'advertised', and it fatigued a lot of people. I should not have taken at face value what I was told in regards to this march, again, my fault.
4) Last, bugle calls. Having a Brigade commander in our camp with his Bugler, doing calls that sometimes were not in alignment with our calls, caused a lot of confusion. At one point that created some tension with our color company and a few of our other companies. That was NO ONE'S fault but mine, I should have done a better job of clarifying times of when to form up in the street and when to come onto line.
Logistically I give the event a D- at best. Limited signage, the regular fight for water and ice, and the disgusting conditions of the porta-pottys were big negatives and an event this size should have had all that figured out. I was thrilled with our performance in drill and battle, that was probably one of the best battalions we have put together.
Thanks to all of you for attending, I hope I can march with you again soon.
Colonel Van
2018 Cumberland Guard Meeting After Action Report

Cumberland Guard Annual Meeting Jan 13 2018
Introductions

Website Update
- John wants to do a bit of reorganizing
- Although Facebook has become popular and a preferred platform, will keep site running
- Received several contacts from website – links, and recruits
- If on Facebook, please join the Cumberland Guard Facebook page.

GAR Update
- Western umbrella group started by Rob Van, Bob Minton, Earl Zeckman, etc.
- Monthly conference calls, last one in Dec
- Gettysburg will be the national supported event
- Want to continue the structure of Shiloh with some rotating leadership, CG will march under Earl Zeckman,
- Gettysburg registration is open http://www.gettysburgreenactment.com/
- $20 through end of Jan, $25 through April, $35 after
- Register as "GAR/(your group name)", example 'GAR/Cumberland Guard'.
- Artillery registration VERY limited get with Rob if interested
- Groups included will be CG, AOW, First Federal Division, Army of Ohio, Military District of Mississippi
- Option for a march Friday morning to go into battle if interested
- Predicting 5,000 reenactors both sides
- Security/Safety
– increased insurance costs for large events (somewhere in the neighborhood of $500)
- Must keep OUR cool in the face of protests, may need to leave field if necessary
- Must be careful that new recruits are well vetted to exclude folks trying to infiltrate groups
for nefarious purposes
- GAR looking to put together a 5 year program moving forward for event planning
- Meeting face-to-face Feb. 3rd Bowling Green, KY – looking for leaders of umbrella/collective groups
- Facebook page https://www.facebook.com/groups/120361558416084/

2018 Events
- March 3 – School of soldier put on by Tom Emerick in Mason, MI 106 E South St
- March 10 – Ball in Ft. Wayne IN – details on 30th website and Facebook page
- April 7 – National Park Day – work day at Historic Ft. Wayne in Michigan
- April 28 or possibly May 5 – School of the Piece
– Instructor Ric Julian 299 S John St. Angola, IN
- Contact Steve Smith 260-450-8615 Stephen.Smith@zimmerbiomet.com for details.
- Non-artillery encouraged to attend.
- May 12-13 – Hartford City IN Civil War Days - https://www.hartfordcitycwdays.com
- May 26-27 – Greenfield Village
- June 2-3 – Cynthiana, KY event with lots of cavalry
- Located at Ashford Acres plantation
- https://www.ashfordacresinn.com
- https://www.cynthianabattlefieldsfoundation.org
- June 8-10 – Michigan Heritage Park
- June 8-10 – Civil War Days – Historic Ft. Wayne www.historicfortwaynecoalition.com
- June 16-17 – Turkeyville MI
- June 23-24 – Field music school – Ft. McHenry Baltimore MD
- July 5-8 – Gettysburg National Event - www.gettysburgreenactment.com/
- welcoming reenactors arrival on Wed. 4th
- Cumberland Guard Blue Ribbon Event
- July 5-8 – Brandenburg KY
- July 21-22 – Hastings, MI – Charlton Park
- Cumberland Guard Blue Ribbon Event
- Aug 11-12 – Hale Farm – Bath, OH
- Aug 25-26 – Cascades Park – Jackson, MI
– event will have Shiloh scenarios, Wayne Motts tentatively scheduled to speak
- Cumberland Guard Blue Ribbon Event
- Aug 4-5 – Port Sanilac – sponsored by 21st MI
- September 15-16 – Sidney OH
- September 15-16 – Holland MI event Van Raalte Farm
- www.vanraaltefarmcivilwarmuster.com
- September 22-23 – Angola Civil War Days – Angola IN
– Friday educational day, dinner and ball Saturday night
- 100 acre park on east side of Angola
- Oct 5-7 – Wolcott Mill MI

Direction/Future
- Rob's goal is to heal hobby. Foster cooperation, end animosity.
- Suggesting a reunification of federal groups in Michigan
- Suggestions also include reaching out to confederate groups to protect and work with
- Listening to each other, not worrying about the credit

Closing
- Tom Berlucchi emphasized fostering cooperation among neighboring state events in
Indiana, Michigan, Ohio
- Get registered for Gettysburg
- Thanks for coming!
Hastings, MI, July 2017, After Action Report
I'm not really sure to where the weather we actually received was supposed to go, but I am sure they were jealous because the temperature we had was fantastic. I may have even used a blanket on Friday night. Many thanks to John Vohlken for not only his duties as Sergeant Major, but also for keeping the mosquitoes away with spraying. TJ Berlucchi really added to the weekend with his drumming (getting some help from Russ Paul on occasion).
Saturday morning, we started off with some drill that was performed quickly and efficiently. Organizationally we had a lot of various companies combining to form the battalion. Scott Cummings commanded 1st Company, Marty Walker (although I tried to promote Ryan VanMaldegen) had second company (and we were all so glad Marty didn't have another 'episode' like he did in 2016), 3rd Company was Robbie Giorlando (with some instruction from Ian Fulford and Russ Paul), and 4th company was Captain Douglas McComas. (more on THAT guy later...
:)) All did well, but I wanted to point out the performance of Robbie Giorlando. I believe this was the first time I have seen him command a company in a battalion formation and his performance was very solid. Also thanks to Scott Cummings who made sure I didn't invert the battalion during drill!
The battle on Saturday was out in the High Meadows. Union forces came in from the road and wrapped around the spectator hill which I believe they enjoyed. The battle wrapped around both sides and the Cav (led by Kevin Yeager) was very helpful in sweeping up the Rebs. We had a significantly higher number of troops on the field and ended the day with a victory.
Saturday Parade was held on the Village Green and Greg Swank helped facilitate one of the better parades I have seen in a long time. I briefly left for dinner Saturday evening. When I returned it was reported to me some of the men were being treated at the hospital in town. I went there immediately and found Captain Douglas McComas, who was either fatigued by battle or drunk…maybe both. Before the evening was over Captain Douglas McComas was in a duel with another Officer and unfortunately it did not go well for him.
The tactical on Sunday was the regular fare. Scott Cummings and his crew were out on the field with picket responsibilities. The Rebs did a fantastic job covering the field and at one point gave us a great volley as they came in behind us, well done! Sunday's drill went well, with a special note on Marty Walker's 2nd Company's volleys which were outstanding (I am guessing Ryan had drilled them earlier). The battle on Sunday was held on the Village Green and gave the Cav the opportunity to open up the battle for us. Kevin and his crew dusted up the Rebs who were very aggressive during the opening of the battle. Although we came down two different roads, we eventually deployed ourselves across the width of the field. Eventually the Rebs were driven back through town and surrendered. A big 'thank you' as always to the Reb command staff. Greg Van Wey could not make it, but Bill Adams took his place, both of these men are fantastic and have been very flexible to work with.
Last, I appreciate the skills of our Wing Commanders Denny Whiting as well as Dave Bauman, thank you both.
As mentioned, the 49th Indiana will be fielding a company for Hale Farm, so we'd love to have anyone fall in with us who is interested, dates are Aug 12/13.
Colonel Van
Shiloh, TN, April 2017, After Action Report
I think I just now have the energy to sit down and put some thoughts down in regards to Shiloh, as I was exhausted after the event. I'll go into more detail in a post on the Grand Armies of the Republic page about noting all the logistics and pre-planning done by the event staff (Earl Zeckman and John Nash Jr), and the (not kidding, 2 site visits and (by my count) 8 conference calls led by the overall commander Bob A Minton who did an amazing job at getting this event pulled together.
I arrived on Wednesday and was greeted by Terri Cooney Zeckman working the registration table. After setting up on site we worked through a pretty windy and rainy Wednesday and Thursday, but by Friday things were starting to shape up for some great weather. We had most of the company, battalion and brigade leaders on site by early Friday afternoon so we met to discuss the schedule for the weekend. I enjoyed camping next to 1st Battalion Steve Lundburgh who was great to work with all weekend.
I was honored to command all the infantry for the Friday afternoon battle, and we had three battalions that, while never worked together as a brigade, performed beyond expectations. 2nd Battalion 4th Company Captain Ryan VanMaldegen was tasked with being the bait of the scenario and led his company in drill in the field. One the attack unfolded he was joined by 3rd Company Captain Douglas McComas. Eventually the battle unfolded with the 1st Battalion (led by the fierce Colonel Dave Brunner) and Federal Calvary coming to our aid. The Confederates didn't put up too much of a fight so we opted to retire off the field.
Saturday morning's battle started off early with a 6:00a First Call. This battle was in two parts with us initially marching out with some interesting fog and deploying on the hill. As we covered for the rest of Army retreating behind us, our 1st Brigade fought a very stubborn delaying action allowing the rest of the Army to reform in the next field where the battle continued. Excellent work by Brian Riley and Aaron Sayles on the 1st Battalion Right Wing as well as Captain William Behrman of the 2nd Battalion 2nd Company.
On Saturday afternoon, we performed Brigade Drill which was something we don't get to do very often. I must say all the Battalion and Company Officers did a GREAT job with this drill. There were 5 or 6 specific things I wanted to do in terms of deploying and forming and we got those down so quickly, there was no reason to make it last any longer. (I only deployed our column of Battalions incorrectly one time…one time only….pretty sure no one noticed except Ian Fulford. 1st Battalion 2nd Company Greg Kohn was great to work with on this drill.
Saturday afternoon had a delay but it was due to the incredible number of spectators coming for the event. In part, these are the folks that pay the bills and I for one supported the delay in order to allow more of them to come see the event. The battle had an impressive display of artillery. After the battle, Lt. Colonel Jesse Poe led a patrol into the town of Purdy which was something we don't get to do very often. It was right after the delayed battle so I know the guys were tired but thank you.
I made the mistake of staying to long (or maybe going at all?) to the 3rd Michigan Infantry Co. F's camp where someone hit the 'on' button for Gary Houghtaling. I was also supplied green liquid and for the rest of Saturday night there was probably as much fog in my head as there was on the battlefield Saturday morning.
The Sunday battle had us march into the farthest corner of the battle field to stage. Our battalion kicked off the fight with an initial assault. A few observations here…the men of 1st Battalion looked amazing. I really saw Lt. Colonels Howard Morgan and Ted Opran do a fantastic job. I commented to Dave that their battle line was as straight as a ruler. Jason Andrew Brunner was great as 1st Company Commander, setting the pace, all the companies looked fantastic. (In a national event, what better place than 1st company, 1st Battalion??) I had to dispatch Marty Walker to the middle of the field to act independently, and he did a great job not just during the Sunday battle, but all weekend 'appearing' right in front of me when I needed him most and figuring out my hand signals. Our final push drove the Rebels from the field and we marched back to camp.
Compliments to 2nd Battalion Sgt. Major John Vohlken for his excellent work on the Guard Mount (several commented to me on it), and to Thomas Berlucchi, my Chief of Staff who I could not have done the event without. TJ Berlucchi filled in for drumming at several formations and did a great job as well, and last, thanks to my 'bugle translator' Tom Emmerick, for keeping me honest to the bugle calls for 1st Brigade.
I appreciate all of you did your part except one group who left about one cord of wood stacked in the middle of the field (because, you know, I didn't communicate expectations there….). Having said that, there was no trash to speak of in our camping area, so thank you for that as well as minding the 'no fire pit' request.)
I expected nothing less than excellence from the Indiana and Michigan boys in terms of their performance as I work with them regularly, but it was my first time with the MDM and KATs in 1st Battalion and they were hands down an amazing group of guys to march with who are well led and well trained. The other company officers I didn't already mention, Todd Koster, Jeff Cordell, Todd Wisnant Matt Mallory, thank you.
I am grateful for all of your hard work. (If I mixed up any company numbers / names here please let me know).
Hope my voice comes back soon….
Colonel Van
2017 Cumberland Guard Meeting After Action Report
I thought I would post a very brief summary of our meeting from January 14, 2017. The meeting was held in Fort Wayne and thanks to Steve Smith for arranging the facility and Greg Swank for jotting down some notes. The meeting was well attended and we discussed the following items.
We had a few guests who updated us on their respective organizations, specifically:
Denny Whiting, Nathan Tingley and Tom Emerick from the Great Lakes Battalion visited with us. The GLB will be attending Jackson and will be meeting towards the end of the month to finalize their 2017 schedule. The GLB is also hosting a Battalion Drill at Historic Fort Wayne in Detroit, MI on March 24-26, 2017.
Bob A Minton of the First Federal Division also came out to the meeting and discussed 2017 Shiloh. Bob discussed the Grand Armies of the Republic group of Western Federal reenacting groups of which Rob Van distributed copies of the signed resolution that came out after Perryville, representing most of the major Federal groups in the West / Midwest. The affiliation helped stop a second Shiloh event from happening, and Shiloh 2017 will be the first time the group will be in command of a major event. Shiloh will be hosted by Earl Zeckman's group, and registration is open.
After our guests, we went around the room and provided updates on individual groups.
Calendar year 2016 was reviewed, and the following Cumberland Guard Blue Ribbon events were discussed. The following was noted.
Charlton Park Civil War Weekend
- Great weather
- Good skirmish/tactical
- No injuries
- Great cavalry, good usage of them – suggest galvanizing a few for each side
- Having the rear gate open helped reduce if not eliminate vehicle traffic Saturday night.
- Campaigners appreciated the support of the organizers and event
Jackson Civil War Muster
- Public very enthused – loved the interaction period with soldiers in crowd
- Reenactors pleased
- Small issue with Port a Johns in back – adding more and trash receptacles to reduce litter
- Few safety issues with encroachments on guns on union side, may need to limit movement
- Reenactors will be replacing retiring members of the Jackson Board = more reenactor ran
- Perhaps burying the speaker wire to avoid safety issues
- GLB very positive impression, liked the crowd interaction
Perryville, KY
- Frustration with lack of activity at times
- Struggled with communication, organization at times from event staff
- Fun to have large MI, IN companies
- Good parking!
After breaking for lunch, the full list of events was discussed (see my other post which contains the 2017 events) including various smaller and regional events, as well as an opportunity for some campaign events. For 2017, the Cumberland Guard Blue Ribbon (Focused) events will be:
Shiloh April 6-9
- Need to support to get GAR off the ground – large financial cost to put on an event
- Inclusive to all styles of reenactors
- The AOW, Cumberland Guard, Great Lakes Battalion, and Earl Zeckman's Department of the Mississippi would be under Rob Van and Rob will handle our brigade. Reduce micromanagement
- Fallen Timbers land area will be used: actual battleground owned by CWPT
- Try to get battles with early as possible on Sunday to facilitate the drive
- Hornets Nest scenario, Grant's counterattack – artillery will be required to galvanize for proper show
- Mixed camps, but also an authentic period village as well
- Rob Van will be attending a site walkthrough Jan. 28-29
Hastings, MI Charlton Park July 14-16
Cascades Park Jackson, MI Aug. 26-27
- Meeting with Sheriff and city police for security after last year's vehicle break ins
- Driving range is closing, will have the entire area for use during reenactment
- 2017 scenario is Centreville 1861
Thanks to everyone who attended, and we will see you on the field in 2017!

Jackson, MI, August 2016, After Action Report
Ton of front end planning credit has to go to Thomas Berlucchi who facilitated several conference calls with
all the principals for the event prior to the weekend, thanks Tom!
When I arrived on Friday afternoon Major Greg Swank was already 'on scene' and forming Headquarters.
Thankfully Keith Graham Harrison had already laid out 5 company streets (which at the time I thought would
be adequate allowing for last year's number with some growth. John Vohlken was busy providing some much
needed pest control over the weekend, thanks John.
As we compiled company reports, we were actually considering consolidating to 4 companies based on the
numbers we were seeing. When Saturday morning came our ranks swelled to not only 5 large companies, also
we were pleased to see Scot Spiekerman with the 114th PA on site with a full company. Unfortunately due to a registration miscommunication I didn't have a 6th Company Street laid out (sorry guys…) but we made it
work.

Saturday's day started with a few rough edges but by the end of the drill we were pretty much in sync and we practiced a few maneuvers that (believe it or not) we actually used in the Saturday battle, such as by the right of companies to the front and to the rear. The battle plan called for us to march out in front of the crowd and wait for the battle to start (which we did). We also moved into the crowd to interact with the spectators which everyone seemed to enjoy.
We engaged the Confederate forces and pushed back and forth but were finally ran off the field. A quick note
here, unfortunately the JDR Commander Greg Van Wey was unable to attend Jackson. Greg is always a
pleasure to work with. In his place was Bill Adams. You can tell these two are cut from similar cloth as Bill
was incredibly accommodating and just amazing to work with. It creates such a positive experience when you
have commanders on the field putting their full effort into fulfilling the vision of the battle, not trying to break
scenarios. Bill was fantastic to work with.
After the battle we were able to honor John Clark and Jim Newkirk for their many years of service to Cascades
Park. We were also able to have a moment to honor several folks in the re-enacting community who we have
recently lost.
Later in the evening we had a Parade scheduled (which I might a few people on staff seemed to think we
should cancel due to weather…) but, they were WRONG! The rain cleared off and we were able to have a
solid performance on Parade. The only thing that would have made the Parade (and the event) better would
have been to have consistent music.
We had a very solid bugler and drummer in and out of the event over the weekend, just not all the time. I'd
really like to make that a goal for next year. That concluded most of the formal activities for Saturday as the
dance was unfortunately cancelled. Later in the evening I did have the pleasure of meeting Mrs. Spiekerman
who was wonderful to talk to. I understand she keeps an axe close to her tent but thankfully she did not feel the need to retrieve it.
Sunday's drill we practiced the maneuvers (specifically deploying the column) we would use later in the day.
The battle plan for Sunday involved having Kevin Yeager's crew initially engaging the Confederates on our
front. Kevin, as always, put on a great show for the crowd. As for the infantry, our plan was to march to the top of the hill behind the battlefield and then march down through the crowd (which the spectators always enjoy). As we came down the hill we went into a column of companies then deployed. I have talked before about having solid left and right 'hooks' as a battalion, and with Scot Spiekerman's boys on the left and Nick Leach's AOW company on the right (including my awesome home company of the 49th Indiana Co F), I had them. Up until that well placed Confederate gun opened up on our left (sorry 6th Company, we had to get through there!). Anyway, it decimated Scott's boys, but I was fortunate enough that the Marty Walker's 3rd Michigan filled the gap. At one point when we may have been turned, it was calming to see Ryan VanMaldegen in the thick of it already anticipating what I was going to ask him…and he said he would not allow the left to be turned.

Speaking of nonverbal communication, it seemed like I was also totally in sync with Russ Paul and his HUGE
Company. It was hard to yell the orders out over the noise of the battle (and the announcer) and I could lock
eyes with Russ and know based on his expression if I needed to repeat any orders or change anything. Moving
towards the center of the battalion, I also have to compliment a few more company commanders. Nick Miner
turned in a solid performance managing 4th Company and was always where he needed to be and was great to work with. Last, 3rd company which was tag teamed by Chad Johnson and J.R. Schroeder….gents, you both did fantastic not only in drill, but were crisp and timely in both battles. Great job to both of you, it was my pleasure to work with you.
I'd like to thank two incredible wing commanders, Denny Whiting and Ron Wilkins, as well as Greg Swank
for his hard but fantastic work all weekend. Also thanks to Gary 'Smith' Houghtaling for stepping up to be
Sergeant Major all weekend. Unlike Hastings, I was able to spend a bit more time around Gary and have a
huge appreciation for his sense of humor. Matt Guinn was also in cam p and on staff, and helped with the day
to day running of the event. Of special note also should be William Eichler who provided the flags for the
weekend. Last and certainly not least, TJ Berlucchi for dispatching communications to the field.

Last issue to discuss…some of you may have been aware there were some vehicle break ins over the weekend. The responsible party was caught very quickly by the local police. However, the event staff will be taking the extra step to hire additional security at the event next year to patrol the parking lots, so I think that is an appropriate and responsible step on their part.
See you at Perryville! (get registered!!)
Colonel Van
Hastings, MI, July 2016, After Action Report
Apologies for my late report. We wrapped up another fantastic Hastings weekend. First, the weather. Wow, I
am pretty sure I can't remember a Hastings where I needed a blanket to sleep. The mosquitoes seemed to be
minimal, and although there was a brief period of time where a significant storm looked like it might come
through the area on Sunday, the lake dissipated its strength and we generally had great weather all the way
around.

Many to thank this time around. I think we all realized just how much work Keith Graham Harrison has put
into Hastings, and as always we missed him. Doing a fantastic job filling in his shoes was Greg Swank, who
not only kept the weekend running smoothly, but also pulled off a fantastic Parade on Saturday. Ivan Gucci
Vargas also did a phenomenal job making the next evolution in the battalion orders documents, thank you! The
other members of the staff did a fantastic job, including Wing Commanders Denny Whiting and Dave
Bauman, Tom Emerick and Bill Combs. I'd like to make a special note in regards to Ron Wilkins, he was
everywhere. He made sure everyone was online when they needed to be, chased down issues, resolved issues, could NOT say enough about his hard work. Gary Houghtaling was incredible at Sergeant Major, and
wow…let's talk about Kevin Yeager…we'll talk more about the cavalry a bit later.
Thanks to Jim Newkirk for keeping everything in motion, and as always I have to tip my hat to our noble
Rebel friends, led by Greg Van Wey.

It was an honor for all of us to form and honor both Jim Tononi of the 4th Michigan Co A Volunteer Infantry
Reenactors as well as Rich Roscoe of the 24th Michigan Volunteer Infantry, and it was such a class act for the Jeff Davis Rifles to participate in that, thank you gentlemen.

I thought the drill was quick and to the point, we accomplished what we needed to and used much of it during
the battle. Saturday's battle on the High Meadows was certainly hard fought…but the cavalry…wow the
cavalry. Those guys did a fantastic job controlling the field. Also of special note I wanted to recognize Brian
D. Jankowski for all his input in regards to the battle planning for Saturday.

Sunday morning's tactical required us to capture an artillery piece which, with the help of the Cavalry, I think
we had in our possession in a count of 'minutes'. From there we pulled it back up to a hill and controlled the
field for the majority of the scenario, although I have to say there were some times when the Rebs were giving us a pretty hard push. In the end, had we not had the Cavalry, I am pretty sure the outcome would have been more to chance. Thanks to the artillery crew for lugging the gun up and down the field for us!
Sunday's battle in town resulted in a Union defeat as our forces came on to the field and were chewed up in
pretty short order by the Confederate Army.

Thank you for allowing me to serve as your Colonel…looking forward to seeing all of you at Cascades Civil
War Muster!

Colonel Van
Jackson, MI, August 2015, After Action Report
So much to say in regards to Jackson…let's start at the beginning. What many people did not see was the tremendous amount of planning that went into the event before anyone even stepped a foot on the grounds. Special thanks goes to Thomas Berlucchi​ , as he set up multiple teleconferences including via GoTo Meeting (sharing computer screens) to give the event the maximum chance of success.
Subsequent to that, but still even prior to the event, Keith Graham Harrison​ was there laying out the company streets, and the Marines were there laying out the civilian camp, so by the time most of us were there, it looked pretty organized!
Friday night we conducted an officers meeting and, much like Hastings, we reviewed the schedule as well as the drill maneuvers we were going to do. I think this was time well spent as the drill on Saturday was simply outstanding. I often find that at any event, I'll have one of the drills and one of the battles I like the best, and they are typically on opposite days. This weekend was no exception, but I'll get to the battles soon enough. I had two of my sons ( Rob Roy​ – (22), and Ray Van​ (20), at Headquarters as well to assist, which was very enjoyable for me.
Our staff was amazing, we had the likes of Keith Harrison as Chief of Staff (more on him later), Nathan Malone​ as Sergeant Major, my 'go to' Right Wing Commander Dave Bauman, Denny Whiting did a great job as Left Wing Commander with his Great Lakes Battalion boys, and I had the pleasure of getting to know Robert Rock​ who's service was invaluable as Aide-de-Camp. I didn't really get a chance to meet the rest of his family, but his daughters were there as well. Special thanks to the artillery wizardry of Jim Newkirk, and although he was only 'on our side' Saturday, I have come to have a high regard for Kevin Yeager​'s cavalry skills. I also would be remiss if I didn't mention music…boy how important music is. We had a one drummer that popped in for a partial day (not really sure what happened to him), but a young man whose last name I didn't catch, but his first name was Jonathon, was arguably one of the best at giving a beat to march to I have heard in a long time, and was there for most of the weekend.
After drill on Saturday we moved into battle preparations, including a rousing prayer by Reverend Charlie Buckhahn (wow that man can pray…). As we formed up, many were surprised and delighted to see Dave Shackelford take the field as 'Commander Emeritus' for the battle on Saturday. Dave marched out with us. Although it went 'well', it was not my favorite of the two battles. It was too over scripted with too many last minute changes, and frankly I don't enjoy that kind of set up. Colonel Nick Medich​ was gracious enough to come over and provide some guidance as to how we might move him off the field, only underscoring the fact that the man is a class act. We came out and pushed the Rebels off the field and that was basically that. One thing I have begun to rely on time and time again, is the solid performance of my 'bookend' companies, Marty Walker​ and the 3rd Michigan boys on the right, and Scot Spiekerman​ and his Zouaves on the left…I can't tell you how assuring it is to see them there. Also performing good work with some punches in the middle were Captains Russ Paul​ , J.R. Schroeder​ , and several more. After the battle, the event organizers had set up a special ceremony to honor Dave Shackelford, Nick Medich, and (although he didn't know it at the time), Keith Harrison. (This would not be the first time we had something planned for Keith he was not aware of). Jackson recognized all three men and provided them plaques for all of what they have done for Jackson and for re-enacting.
We marched back to camp with a planned parade later in the evening. Again, tip of the hat to the Rebel Army, they came over to link up with us for the Parade which actually was a ceremony to recognize Keith. What can you say about a man who has given so much, so selflessly, for so many years? Keith walked among the men after he was given a pistol as recognition of his service.
On Sunday we formed up for drill and this drill went well, just not quite as smooth as Saturday's. I hold myself responsible for that, as I think a 'do different' for me will be to have a brief Officer's meeting BOTH Friday and Saturday to review drill concepts. Also before Sunday's battle, I also had the pleasure of meeting Russ Paul's wife for the first time.
Sunday's battle (at least for me) was a bit more loosely scripted but more enjoyable. I have to say I feel like I am really in sync with Greg Van Wey​ (the Confederate Commander on Sunday) in terms of how we have battles flow. I am looking forward to working with him more and more. We ended up getting pushed off the field Sunday, but I think we bloodied their noses at bit before we did.
If nothing else, I am incredibly excited about the Cumberland Guard and the direction it is taking moving forward. I received a lot of positive feedback and offers of assistance.
Many thanks to all of you who shouldered a musket for Guard Mount, it is very much appreciated. I'd also like to extend an invite to 'All Ya'All' to consider coming down to Hartford City, IN on October 9, 10, 11 2015. Find more details at http://hartfordcitycwdays.com/
Thank you for letting me be a part of your weekend.

Colonel Van