Welcome to the Internet Home of the Cumberland Guard
New Information
2018 Jackson AAR is now posted to the AAR page
2018 Jackson Battalion Orders are now posted to the Special Orders page
2018 Hastings AAR is now posted to the AAR page
2018 Hastings Michigan Battalion Orders are now on the Special Orders Page
155th Gettysburg 2018 AAR is now posted to the AAR page
155th Gettysburg 2018 Battalion Orders are now on the Special Orders page
2018 Cumberland Guard Meeting After Action Report

Cumberland Guard Annual Meeting Jan 13 2018

Introductions

Website Update
- John wants to do a bit of reorganizing
- Although Facebook has become popular and a preferred platform, will keep site running
- Received several contacts from website – links, and recruits
- If on Facebook, please join the Cumberland Guard Facebook page.

GAR Update
- Western umbrella group started by Rob Van, Bob Minton, Earl Zeckman, etc.
- Monthly conference calls, last one in Dec
- Gettysburg will be the national supported event
- Want to continue the structure of Shiloh with some rotating leadership, CG will march under Earl Zeckman,
- Gettysburg registration is open http://www.gettysburgreenactment.com/
- $20 through end of Jan, $25 through April, $35 after
- Register as "GAR/(your group name)", example 'GAR/Cumberland Guard'.
- Artillery registration VERY limited get with Rob if interested
- Groups included will be CG, AOW, First Federal Division, Army of Ohio, Military District of Mississippi
- Option for a march Friday morning to go into battle if interested
- Predicting 5,000 reenactors both sides
- Security/Safety
– increased insurance costs for large events (somewhere in the neighborhood of $500)
- Must keep OUR cool in the face of protests, may need to leave field if necessary
- Must be careful that new recruits are well vetted to exclude folks trying to infiltrate groups
for nefarious purposes
- GAR looking to put together a 5 year program moving forward for event planning
- Meeting face-to-face Feb. 3rd Bowling Green, KY – looking for leaders of umbrella/collective groups
- Facebook page https://www.facebook.com/groups/120361558416084/

2018 Events
- March 3 – School of soldier put on by Tom Emerick in Mason, MI 106 E South St
- March 10 – Ball in Ft. Wayne IN – details on 30th website and Facebook page
- April 7 – National Park Day – work day at Historic Ft. Wayne in Michigan
- April 28 or possibly May 5 – School of the Piece
– Instructor Ric Julian 299 S John St. Angola, IN
- Contact Steve Smith 260-450-8615 Stephen.Smith@zimmerbiomet.com for details.
- Non-artillery encouraged to attend.
- May 12-13 – Hartford City IN Civil War Days - https://www.hartfordcitycwdays.com
- May 26-27 – Greenfield Village
- June 2-3 – Cynthiana, KY event with lots of cavalry
- Located at Ashford Acres plantation
- https://www.ashfordacresinn.com
- https://www.cynthianabattlefieldsfoundation.org
- June 8-10 – Michigan Heritage Park
- June 8-10 – Civil War Days – Historic Ft. Wayne www.historicfortwaynecoalition.com
- June 16-17 – Turkeyville MI
- June 23-24 – Field music school – Ft. McHenry Baltimore MD
- July 5-8 – Gettysburg National Event - www.gettysburgreenactment.com/
- welcoming reenactors arrival on Wed. 4th
- Cumberland Guard Blue Ribbon Event
- July 5-8 – Brandenburg KY
- July 21-22 – Hastings, MI – Charlton Park
- Cumberland Guard Blue Ribbon Event
- Aug 11-12 – Hale Farm – Bath, OH
- Aug 25-26 – Cascades Park – Jackson, MI
– event will have Shiloh scenarios, Wayne Motts tentatively scheduled to speak
- Cumberland Guard Blue Ribbon Event
- Aug 4-5 – Port Sanilac – sponsored by 21st MI
- September 15-16 – Sidney OH
- September 15-16 – Holland MI event Van Raalte Farm
- www.vanraaltefarmcivilwarmuster.com
- September 22-23 – Angola Civil War Days – Angola IN
– Friday educational day, dinner and ball Saturday night
- 100 acre park on east side of Angola
- Oct 5-7 – Wolcott Mill MI

Direction/Future
- Rob's goal is to heal hobby. Foster cooperation, end animosity.
- Suggesting a reunification of federal groups in Michigan
- Suggestions also include reaching out to confederate groups to protect and work with
- Listening to each other, not worrying about the credit

Closing
- Tom Berlucchi emphasized fostering cooperation among neighboring state events in
Indiana, Michigan, Ohio
- Get registered for Gettysburg
- Thanks for coming!

2018 Cumberland Guard Meeting
Saturday, January 13, 2018
10:30 am EST

Lutheran Hospital of Indiana
7950 West Jefferson Boulevard
Fort Wayne, Indiana
Function Rooms 3 & 4
(Lower Level next to Dining Room)
2017 Cumberland Guard Schedule of Events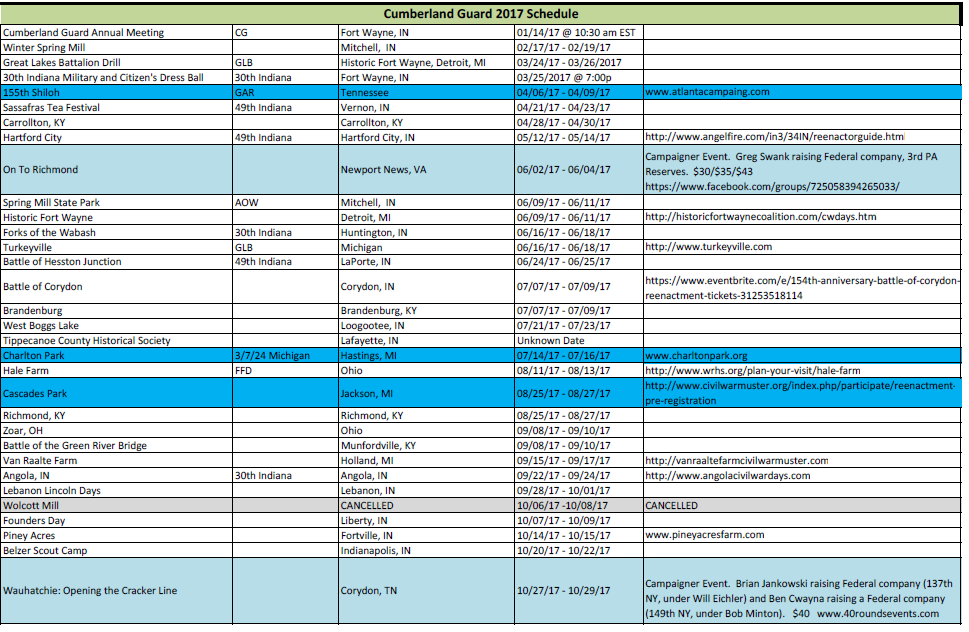 2017 Cumberland Guard Meeting After Action Report
I thought I would post a very brief summary of our meeting from January 14, 2017. The meeting was held in Fort Wayne and thanks to Steve Smith for arranging the facility and Greg Swank for jotting down some notes. The meeting was well attended and we discussed the following items.
We had a few guests who updated us on their respective organizations, specifically:
Denny Whiting, Nathan Tingley and Tom Emerick from the Great Lakes Battalion visited with us. The GLB will be attending Jackson and will be meeting towards the end of the month to finalize their 2017 schedule. The GLB is also hosting a Battalion Drill at Historic Fort Wayne in Detroit, MI on March 24-26, 2017.
Bob A Minton of the First Federal Division also came out to the meeting and discussed 2017 Shiloh. Bob discussed the Grand Armies of the Republic group of Western Federal reenacting groups of which Rob Van distributed copies of the signed resolution that came out after Perryville, representing most of the major Federal groups in the West / Midwest. The affiliation helped stop a second Shiloh event from happening, and Shiloh 2017 will be the first time the group will be in command of a major event. Shiloh will be hosted by Earl Zeckman's group, and registration is open.
After our guests, we went around the room and provided updates on individual groups.
Calendar year 2016 was reviewed, and the following Cumberland Guard Blue Ribbon events were discussed. The following was noted.
Charlton Park Civil War Weekend
- Great weather
- Good skirmish/tactical
- No injuries
- Great cavalry, good usage of them – suggest galvanizing a few for each side
- Having the rear gate open helped reduce if not eliminate vehicle traffic Saturday night.
- Campaigners appreciated the support of the organizers and event
Jackson Civil War Muster
- Public very enthused – loved the interaction period with soldiers in crowd
- Reenactors pleased
- Small issue with Port a Johns in back – adding more and trash receptacles to reduce litter
- Few safety issues with encroachments on guns on union side, may need to limit movement
- Reenactors will be replacing retiring members of the Jackson Board = more reenactor ran
- Perhaps burying the speaker wire to avoid safety issues
- GLB very positive impression, liked the crowd interaction
Perryville, KY
- Frustration with lack of activity at times
- Struggled with communication, organization at times from event staff
- Fun to have large MI, IN companies
- Good parking!
After breaking for lunch, the full list of events was discussed (see my other post which contains the 2017 events) including various smaller and regional events, as well as an opportunity for some campaign events. For 2017, the Cumberland Guard Blue Ribbon (Focused) events will be:
Shiloh April 6-9
- Need to support to get GAR off the ground – large financial cost to put on an event
- Inclusive to all styles of reenactors
- The AOW, Cumberland Guard, Great Lakes Battalion, and Earl Zeckman's Department of the Mississippi would be under Rob Van and Rob will handle our brigade. Reduce micromanagement
- Fallen Timbers land area will be used: actual battleground owned by CWPT
- Try to get battles with early as possible on Sunday to facilitate the drive
- Hornets Nest scenario, Grant's counterattack – artillery will be required to galvanize for proper show
- Mixed camps, but also an authentic period village as well
- Rob Van will be attending a site walkthrough Jan. 28-29
Hastings, MI Charlton Park July 14-16
Cascades Park Jackson, MI Aug. 26-27
- Meeting with Sheriff and city police for security after last year's vehicle break ins
- Driving range is closing, will have the entire area for use during reenactment
- 2017 scenario is Centreville 1861
Thanks to everyone who attended, and we will see you on the field in 2017!

2017 Cumberland Guard Meeting

Saturday, January 14, 2017
10:30 am EST

Lutheran Hospital of Indiana
7950 West Jefferson Boulevard
Fort Wayne, Indiana
Function Rooms 3 & 4
(Lower Level next to Dining Room)

Civil War Field Music School
From Captain Russ Paul, Fourth Michigan Infantry

This past June, I attended the National Civil War Field Music School at Ft. McHenry in Baltimore. The school is for drummers, buglers, and fifers of all abilities. I personally am working at becoming a drummer, in anticipation of the day when I get tired of carrying a sword or rifle (or just as an option for any event where a drummer may be needed). I can say without question that attending this school successfully laid the groundwork for that preparation.
The instructors are first-rate in their respective fields. I can't speak for all the instruments, but among the drum instructors, two were from Camp Chase Fifes and Drums and another is with the U.S. Army 101st Airborne Division (Air Assault) Band. This truly is an opportunity to learn from some of the best in the business.
If you have never been to Baltimore and/or Ft. McHenry, this is a good excuse to do so. The British bombardment at Ft. McHenry during the War of 1812 is what inspired the writing of our national anthem. There is plenty to do and see in Baltimore, including a small Civil War museum, the Inner Harbor, and four vessels open for tours (among them the sloop USS Constellation and the submarine USS Torsk). And if you're a seafood lover, you'll be in heaven as there is no shortage of quality fare!
More detailed information on the school can be found by visiting its web site at:
http://www.nationalcivilwarfieldmusicschool.com.
If you have questions of a more "personal experience" nature, I would be more than happy to try and answer them for you. I am not affiliated with the school in any way, other than being a former (and future) student. After 7 seasons as a company commander, however, I have come to appreciate and value the effect musicians have and the important role they play in our hobby. I can be contacted at puknut33@aol.com.
Cheers,
Russ
Cumberland Guard 2016 Blue Ribbon Events
Historic Charlton Park
Jul 15 - Jul 17
Hastings, Michigan

Cascades Park
Aug 19 - Aug 21
Jackson, Michigan

155th Anniversary Battle of Perryville
Oct 7 - Oct 9
Perryville, Kentucky


Battalion Orders for Hastings/Charlton Park are on the 'Special Orders' page
Battalion Orders for Jackson are on the 'Special Orders' page
Cumberland Guard 2016 Meeting Minutes

I wanted to take a few minutes and recap the annual Cumberland Guard Meeting, which was held on January 9 in Fort Wayne, IN. Again special thanks to Steve Smith for securing the meeting site.

The meeting was very well attended, and we covered the following items:

1. A message from Colonel Shackelford was read to those in attendance.

2. After general introductions, specific recognition was given to the following individuals

Introduction of Greg Swank as Chief of Staff. Greg expressed a desire to help facilitate activities, facilitate cooperation, and to help everyone to get what they want/need from the hobby

Bob A Minton, First Federal Division was a guest at the meeting. Bob expressed a desire to mend fences and end the squabbles that have plagued the hobby over the years. The annual FFD meeting will be held Jan. 30 in St. Louis, MO which Rob Van will be attending as a guest. Bob also mentioned the dissolution of the BGA

John Vohlken reviewed the status of the CG website. We also discussed the CG Facebook page and the success of both items.

Denny Whiting with the Great Lakes Battalion was also in attendance. Denny mentioned that the Great Lakes Battalion plans on having a drill in April open to anyone who wishes to attend. They also commented that the cooperation amongst the GLB and the Guard was great at Jackson, and their members will march with us at Perryville, KY later this year.

3. Rob discussed attending not only the FFD meeting in January, but that he was also attending the January Annual AOW Meeting, and the January Annual Independent Guard (Confederate) meeting in Indianapolis.

4. Rob also discussed the end of the Indiana events Billie Creek and Conner Prairie, and expressed hope that they might return at some point.

5. Updates from all units present

6. Discussion / sharing of recruiting and retention strategies

7. General discussion of the state of the hobby, including the recent political story and subsequent protests in regards to Confederate flags. Several recommended units having one spokesperson to handle this issue with the public and especially with media. We also discussed scenarios in regards to any protest attempts to interrupt a battle, and the appropriate response and planning by Command to address such an event.

8. We reviewed the 2015 Blue Ribbon Events, Hastings, MI and Jackson, MI. We also discussed Indiana troops making the trip to Hastings and Jackson, and the Michigan and Ohio troops (including Marty Walker, Ryan VanMaldegen, and Bob A Minton, just to name a few) at Hartford City.

9. We discussed the 2016 Blue Ribbon Events, Hastings, MI, Jackson, MI and Perryville, KY. (Please register as the Cumberland Guard).

10. General discussion

I'd like to thank everyone for a solid 2015, and I am looking forward to continuing the progress we made with the hobby as we turn to 2016.





Colonel Van
The Cumberland Guard officially welcomes to our ranks
The Seventeenth Michigan Volunteer Infantry, Company "E"
A hearty Hurrah to Captain Nick Miner and his "Stonewall Regiment."
April 2017 -- Shiloh After Action Report
August 2016 -- Jackson After Action Report
July 2016 -- Hastings/Charlton Park After Action Report
August 2015 -- Jackson After Action Report
April 2014 -- Message from Colonel Van
October 2013 -- Retirement Statement from Colonel Dave.
With thanks to First Sergeant Siler of the 19th Indiana, the following forms are now available:
Questions about the Cumberland Guard should be directed to:
Colonel Rob Van at robert.r.van@gmail.com

Major Greg Swank at greg.swank@gmail.com
Questions about this web site can be directed to the Cumberland Guard Webmaster, John Vohlken.